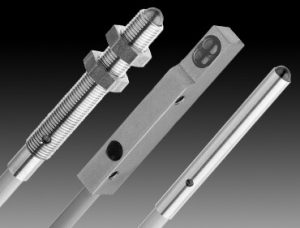 In robotics and other applications where space is very limited, engineers sometimes need to use fiber optic cables paired with conventional photoelectric sensor options. Although fiber optic cables can serve as an effective solution in these scenarios, using a partnered fiber and sensor can increase equipment cost which may pose a budget challenge. Thanks to recent strides in miniaturization, however, there are some photoelectric sensors that are small enough for use in assembly and automation applications with extremely tight space restrictions.
Contrinex now offers a 4mm diameter photoelectric sensor that is specifically designed for applications where space is limited, offering a choice in addition to the fiber optic cable solution.
With a light spot diameter of just 6mm at a sensing range of 50mm, these sensors are capable of reliably detecting even the smallest components. They also include a robust stainless-steel housing with an IP67 protection rating and a permissible operating temperature range from -13°F to 149°F. Connector versions of the miniature photoelectric sensors weigh in at just four grams. Best of all, they're available at a fraction of the cost of optical fiber installations.
In addition to our own line of photoelectric sensors, Locon is proud to provide miniature photoelectrics built by Contrinex, offering a range of sensing distances and housing sizes. As a long-time licensed distributor of Contrinex sensors, our product support combined with the wide selection available makes for an unbeatable approach to serving our customers.
To learn more about our miniature photoelectric sensors or any of the other sensor solutions we offer, feel free to give us a call at our toll-free number or contact us online today.