Locon Sensors is a long-time dedicated supplier of specially developed capacitive sensors and compatible amplifiers for the Semiconductor Industry.
Miniature cylindrical capacitive heads are available in barrel sizes as small as Ø4 up to M12.  When paired with the external amplifier, sensing distance is adjustable from 0 to 8mm, depending on the sensor model.
Because of their extremely precise sensing capabilities, Locon Sensors capacitive bonding sensors can detect even the smallest gold wires in any bonding machine to attach bare wafer chips to a base plate.
Locon Sensors capacitives are also used to detect if the printed circuit board is in its final position to be populated with electrical components. Without this working step, chips are at risk to be placed on the wrong position on the board.
Through their robust steel housing and their PTFE, PVC, or POM front cap they provide ongoing reliable performance in many environments, making them a perfect fit for applications in various industries, ensuring uninterrupted production.
Applications: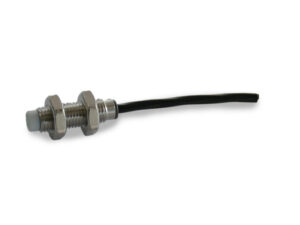 Wire breakage detection of super thin gold wires
Positioning in Chip-bonding machines for wafer chips
Advantages overview:
Dimensions from 4mm smooth barrel up to M12 threaded housing
Adjustable sensing distance
Non-flush versions for extended sensing distance
Halogen free versions
Protection class IP67
External amplifier
Please contact us to discuss possible modifications adjusted to your application needs, we also offer custom designed sensors for the perfect fit.