LOCON your reliable choice for high quality photoelectric sensors
Locon Sensors is proud to be a long-time licensed distributor of Contrinex product.  We supply Contrinex sensors to be used in many different applications, including providing controls for complicated industrial or consumer-interface equipment.  We offer cubic sensors in a range of sizes – with many other options to choose from depending on your project requirements.
Please contact us to find out about the additional cubic photoelectric sensors we carry.  We can also design a custom sensor system to your specifications.  For more detailed information, please use the contact form on the site or call 800-356-2661.
---
Miniature Cubic Photoelectrics
Small Housing Size of 13x21x7mm
Diffuse Sensor with Background Suppression up to 120mm
Through-beam Sensing Range of 2M
---
Cubic Photoelectrics
Housing size of 20x30x10mm
Diffuse Sensing Range of 1.5M
Reflex Sensing Range of 8M
Through-beam Sensing Range of 30M
---
Cables and Connectors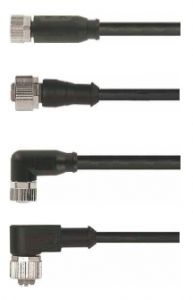 Options include 3 or 4 pin, M8 or M12, straight or right-angle connections
2, 5, or 10 meter lengths
PUR or PVC sheathing