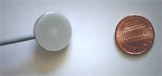 Wafer Sensor
The wafer design is basically the size of a thick coin and is available in diameters of 18mm, 22mm, and 30mm. This style offers many possibilities to situations that were previously impossible for conventional cylindrical sensors, when overall length is a problem a wafer design capacitive sensor can be the answer.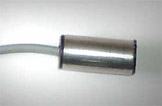 Cylindrical Sensor
This is the conventional line of capacitive sensors except that these sensors offer incredibly small dimensions. They are available with a diameter as small as 4 mm smooth and M5 threaded versions.
---
Sometimes the tiniest gadgets have the biggest effects on our machines. At Locon, we use this concept to develop superior miniature sensors. We offer a wide range of miniature capacitive sensors, which are so tiny that they fit into the smallest spaces in the home, office, or industrial environment. Diameters of these sensors start at 4mm for cylindrical and 18 mm for the wafer style. Due to their small size an external amplifier is required for sensor operation. Varying outputs for the amps are available to suit your specific application needs.
For more information about ordering customized miniature sensors, contact us today.
All of these sensors require a remote amplifier to power the sensing unit. These units are supplied by Locon and are available in several different configurations including both DC and AC power options.